An employee within the communications branch of the National Institute of Allergy and Infectious Diseases (NIAID) has frequently criticized Dr. Anthony Fauci while publishing under a pseudonym for a conservative political website, according to a new report by The Daily Beast.
Fauci, who has led the NIAID as its director since 1984, joined President Donald Trump's coronavirus task force earlier this year and has often appeared in the media to discuss the threats posed by the coronavirus and the strategies Americans can use to defend themselves against it. However, The Daily Beast reported on Monday that NIAID employee William Crews has secretly been publishing content at odds with and frequently critical of Fauci's recommendations under the pen name "streiff" for RedState.
The RedState writer has in recent months described Fauci as a "mask Nazi" and said that Fauci "failed" the U.S. and Trump's administration "at every turn." Referencing one appearance Fauci made on PBS News Hour in July to discuss New York's response to the virus, streiff wrote, "To me, it confirms that Fauci is primarily a political being who is more than willing to suck up to people of monstrous incompetence and give them cover."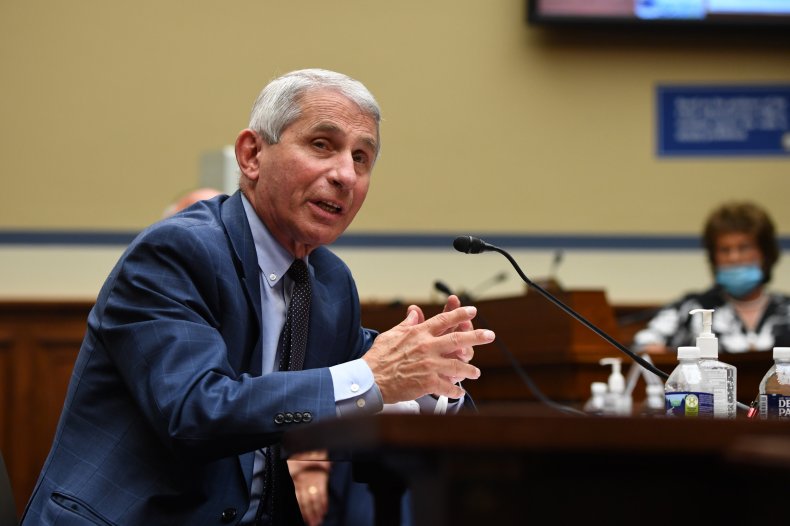 Newsweek subscription offers >
In addition to criticizing Fauci, streiff has repeatedly slammed Centers for Disease Control and Prevention Director Robert Redfield, about whom streiff wrote in May that Trump "needs to show him the door." Following Redfield's appearance before Congress last week, during which the CDC director said wearing a face covering might provide greater protection against COVID-19 than a future vaccine, streiff wrote that Redfield "may not be clinically nuts but he gives a damned good imitation." The writer also made projections early on about the virus's death rates in the U.S. that were quickly exceeded and described the pandemic as "a fraud driven by politics and for the aggrandizement of power."
According to the author page that The Daily Beast reported belongs to Crews, he is a managing editor at RedState and has been a member of the RedState community since 2004. Crews is currently listed within the National Institute of Health's database as an employee with the NIAID.
The NIAID told Newsweek that it first heard about Crews' contributions to RedState on Monday morning.
"Mr. Crews has informed us of his intention to retire," a NIAID spokesperson said. The organization declined to comment further on Crews or his writings for RedState.
Newsweek subscription offers >
Crews appears to be a strong supporter of Trump in his recent reported writings for RedState, but The Daily Beast found in its search of streiff's article archives that his perspective on the president has shifted over the years. In July 2016, streiff criticized then-presidential candidate Trump for how his business projects "failed with metronomic regularity" and said Trump was "a clinical diagnosis of narcissism and psychopathy." RedState articles penned by streiff four years later are far more critical of efforts to contradict Trump.
"I think we're at the point where it is safe to say that the entire Wuhan virus scare was nothing more or less than a massive fraud perpetrated upon the American people by 'experts' who were determined to fundamentally change the way the country lives and is organized and governed," streiff wrote in June.