A popular website used to promote the QAnon conspiracy theory, went offline on Thursday after its operator was identified as a New Jersey resident.
While the growing conspiracy has countless interpretations, at its core, QAnon claims that President Donald Trump entered politics with the secret mission of taking down an underground group of Satan-worshipping pedophiles that has members across all levels of government and key institutions.
Qmap.pub, one of the most-viewed websites archiving QAnon information and theories, drew more than 10 million visitors in July, according to an analysis by SimilarWeb Ltd. The site's creator has been operating under the pseudonym "QAppAnon."
On September 10, Logically.ai, a misinformation-fighting fact-checker, identified the "developer and mouthpiece" of the Qmap.pub website as a New Jersey man named Jason Gelinas. Bloomberg also successfully connected state records of Gelina's home address to the pseudonym "QAppAnon."
Newsweek subscription offers >
When asked by the outlet whether he was behind Qmap, Gelinas said, "I'm not going to get involved. I want to stay out of it," before calling the baseless QAnon conspiracy theory a "patriotic movement to save the country."
Gelinas is an information technology and security specialist who has worked for both Citigroup and Credit Suisse in prominent roles, according to Logically's investigation. He is reportedly in his 40s.
Newsweek reached Credit Suisse for comment. CitiGroup were unable to be reached before publication. This story will be updated with any response.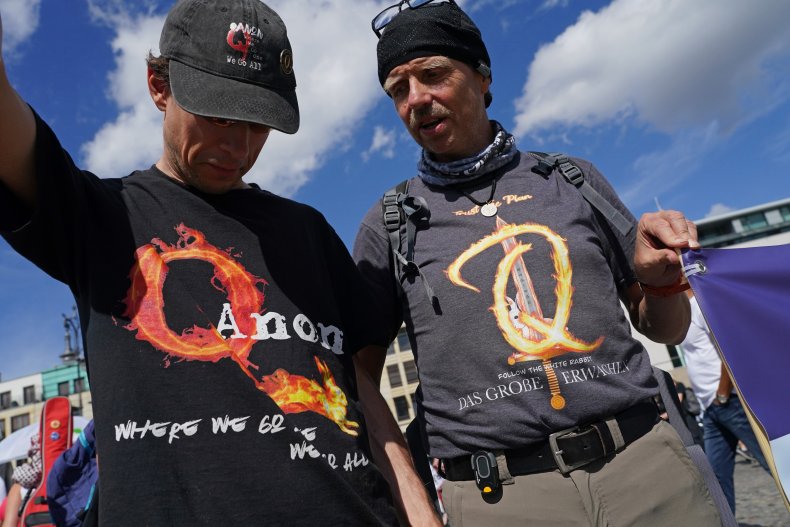 Newsweek subscription offers >
In recent years, the QAnon conspiracy theory has been growing in popularity. On Friday, Georgia Democratic candidate Kevin Van Ausdal abruptly announced that he is dropping out of the race for the state's 14th Congressional District against Republican Marjorie Taylor Greene.
Greene possesses a well-known track record of pushing and supporting QAnon. While Ausdal had did change at victory in the solidly-red district, his exit from the race left Greene one step closer to becoming the first U.S. lawmaker to publicly back the conspiracy theory.
In 2017, Greene called the mythical figure Q a "patriot" and encouraged citizens to support the movement. "He is someone that very much loves his country, and he's on the same page as us, and he is very pro-Trump," she said. "Something worth listening to and paying attention to."
Greene was asked outright whether she supported the movement during a primary debate this year, to which she responded, "like many Americans, I am disgusted with the Deep State who have launched an effort to get rid of President Trump."
"Yes, I'm against all of those things and I will work hard against those issues," she added.